Guernsey's cruise ship tenders may land at Albert Pier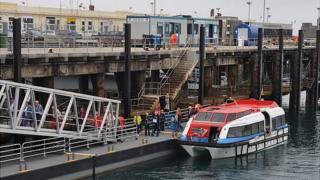 Guernsey's cruise ship tender landing point could move from the inter-island quay to Albert Pier at a cost of about £250,000.
This year 140,000 cruise passengers are expected to come ashore, up from 105,000 last year.
The move would involve the loss of 54 car parking spaces on the pier.
"We want to ensure their first and last impression of the island is a positive one," said Public Services Deputy Minister Darren Duquemin.
"We think the proposed changes will help with that," he said.
Plans for the move have formally been submitted to rearrange the layout on the pier, and Deputy Duquemin said the cost of the project was expected to be recovered within three years.
The department estimates passengers spend £3m a year, based on figures that do not include income for tour operators and port handling agents.
The amount of traffic at the inter-island quay has already increased since the closure of the Cambridge Steps due to safety concerns.
The department said on just one day last year 4,763 cruise passengers were landed and returned to their ships, involving up to 100 tender movements across 12 hours.
Mr Duquemin said: "The more [people] that come here, the bigger the challenge it is for us to get everyone safely ashore and then back to their ships. But that is a nice problem to have."
The plans include placing pontoons next to Albert Pier, creating a pick up and drop off area and improving signage for visitors.
They also involve creating replacement parking spaces for those lost at the Crown Pier, Castle Emplacement and White Rock, although overall it would result in 11 fewer spaces being available.