Gallo-Roman wreck Asterix returns to Guernsey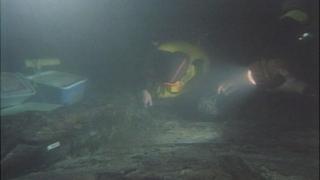 The wreck of a 3rd Century trading vessel found in St Peter Port harbour is returning to Guernsey, although it currently has no permanent home.
The Gallo-Roman ship, dubbed Asterix, was discovered on Christmas Day 1982 and raised between 1984 and 1986.
Since 1999 the timbers have been undergoing conservation work at the Mary Rose Trust in Portsmouth.
Guernsey Museums is hoping to find a partner to display the ship.
Museums director Dr Jason Monaghan, who worked the recovery on his first job after university, said: "Over the years we have had many offers of assistance from individuals and organisations, but have been unable to take them up until the ship was ready to come back.
"I am now very interested in talking to potential partners about securing the future of the ship."
---
The Asterix
The trading vessel caught fire and sank in St Peter Port harbour about AD 280
It was rediscovered in 1982 by local diver Richard Keen and raised between 1984 and 1986 by the Guernsey Maritime Trust, directed by Dr Margaret Rule
The original ship was 22-25m (72-82ft) long, of which some 17m (56ft) of its lower parts remain
It is the largest and most intact surviving ship of its type
---
In 2013 the States decided funding the housing of the wreck would not be addressed until after 2017.
The timbers have been packed for transport and are due to arrive in the island this week.
The timbers will be inspected in the former Post Office headquarters in Guelles Road where they are due to go on public display, although exact details have yet to be finalised.
Culture and Leisure Minister Mike O'Hara said: "This is fantastic news. 'Asterix' is Guernsey's most significant ancient object, evidence of our role in European trade for over 2,000 years.
"We have been working for several years towards this moment."
Two timbers from the ship are due to be displayed at Candie Museum as part of the Celts and Romans: Treasure and Trade exhibition, which features coins from a hoard found in Jersey and opens at the end of March.