St Peter Port lifeboat had second busiest year on record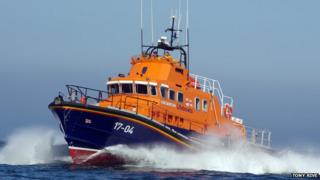 The Royal National Lifeboat Institution (RNLI) station in St Peter Port had its second busiest year on record in 2014.
The Guernsey lifeboat was called out on service 38 times during the year, including calls on the last two days of the year.
Its busiest year was in 1991 when the station lifeboat was called to assist on 43 occasions.
A spokesman for the charity said crew members also took part in an additional 49 training exercises.
He said the unusually high number of exercises was a result of the need to re-familiarise the volunteer crew with the relief lifeboat, the Daniel L Gibson.
They also had to familiarise themselves with changes to the main lifeboat the Spirit of Guernsey following its £1m refit.
Spirit of Guernsey has been the St Peter Port Station lifeboat since 1997.