Guernsey milk price restrictions removed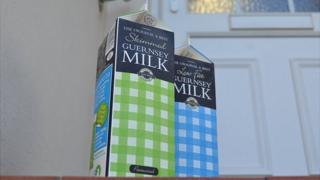 Retailers can charge what they want for Guernsey Dairy milk following the ending of price controls.
The move to end the control was agreed as part of a wider review of the island's dairy industry.
Former commerce and employment board member Deputy Laurie Queripel criticised the removal of price controls.
He said it could undermine the doorstep milk delivery businesses, which have higher operating costs.
Currently, Guernsey Dairy milk is £1.12 a litre - for full cream, low fat or skimmed - 64p for a half litre and organic milk, which is only sold in half litres, is 82p.
Deputy Queripel said: "We need to take a step back and look at the bigger picture in a wider context. The idea originally was to create an open market to create a brighter future for the dairy industry.
"It is wrong to remove one element of the current licensing regime in isolation in a way that could undermine the value and availability of the round."
Imports of fresh milk are banned, but other kinds of milk like UHT can be imported, although this may change in the future.
The future of milk distribution and retailing is the subject of a government report, which is due to be completed by July 2015.