Guernsey Acorn House School syndicate wins £1.2m lottery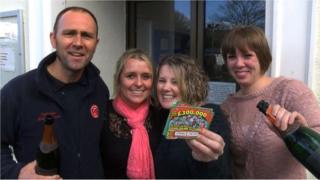 The top prize of £1.22m in the Channel Islands Christmas Lottery has been won by a syndicate at Guernsey's Acorn House School.
The group of 19 secured the highest recorded jackpot for the lottery which began in 1975.
Winners Kristina Gilbert and Kirsty Page said it was the "best Christmas ever".
"I still don't believe it screamed a few times," said Ms Gilbert. "It hasn't sunk in."
'Lovely team'
Ms Page said all school staff were in the syndicate.
"We all work really hard and we are a lovely team," she said.
"Everyone has been saying how much we deserve it."
The prize is dependent on how many people buy tickets and this year demand was so high in Jersey, 50,000 tickets were flown from Guernsey.
Ticket number 2440093 won the £50,000 second prize.
Ticket number 1758643 scooped the £25,000 third prize. The winnings have to be claimed within 12 months.
The winning numbers for 45 prizes of £500 will be available on the States of Jersey and Guernsey websites.
The proceeds of the lottery go to charity and are split between Jersey and Guernsey based on the proportion of ticket sales, with the division usually about 60% for Jersey and 40% for Guernsey.
The exact amount of money being given to charities will be announced in January, with the funds distributed by the charity associations in Guernsey and Jersey.