James Dean's family 'devastated' at murderer Craig Rouget's return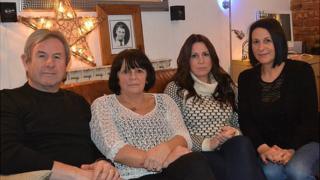 Allowing convicted murderer Craig Rouget to serve the rest of his life sentence in Guernsey has "devastated" the family of the man he killed.
Rouget was jailed for life for stabbing James Dean in St Peter Port on 8 September 2006 and was transferred to an English detention centre in 2008.
James Dean's father Chris said hearing Rouget was due to be imprisoned in the island from January had angered him.
Home Minister Peter Gillson said in a statement it was an operational matter.
He said: "This must be an unimaginably difficult time for the Dean family, but this is an operational matter and I have every confidence in the governor of Guernsey Prison."
Chris Dean said he was first told about the possibility of Rouget's return to the island about two weeks ago and had lodged a formal complaint with the department and prison governor.
"The fact that the man who murdered my son would be living and sleeping a couple of miles away was absolutely devastating," he said.
'Living a nightmare'
Mr Dean said he had been told on Tuesday the convicted murderer would return to the island's only prison at Les Nicolles in January.
He said: "It always seems the victims are the one that suffers the most in one way or another and we don't really get the support that we need at times.
"We are living a nightmare, it never goes away, it never gets any better."
A petition has been launched on social media by some of James Dean's friends asking the Guernsey Prison Service to rethink its decision.
No parole
Mark Lempriere, deputy chief officer of the Home Department, said: "There are a number of prisoners held in Guernsey Prison who have committed serious offences in the island, including others serving life sentences.
"The UK authorities are happy that the facilities in Guernsey, which are based around a working prison ethos, are suitable for all such prisoners.
"These prisoners will never be considered for any form of temporary release, open conditions or parole whilst in Guernsey and if this stage in their sentence is reached they will be returned to the UK."