Guernsey bus contract down to two bidders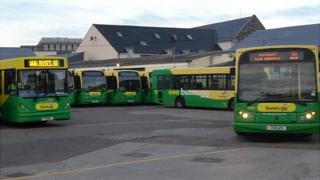 Two companies remain in the bidding for the contract to run Guernsey's bus services.
Four companies initially put forward 12 bids for when the contract with current operator CT Plus runs out at the end of March.
An environment department spokeswoman said best and final offers from the two remaining bidders were being evaluated.
She said the "very tight time-frame" had slipped slightly but would be completed in time for an April start.
The spokeswoman said the delay was "to ensure the tenderers had time to submit valid and robust tenders and to ensure the department has sufficient time to properly evaluate the submissions".
Island Coachways, which previously ran the service, pulled out of the tender process in October citing a lack of details being offered by the department.
The department would not confirm the identity of the remaining two bidders, which may include the current operator.