Alderney fuel shortage may see Aurigny offload bags and passengers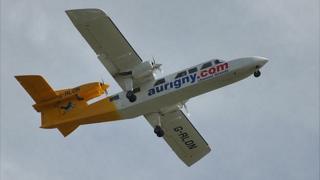 Luggage and passengers may have to be taken off flights to Alderney because of a shortage of fuel in the island.
Early last month Alderney Electricity announced the only existing fuel tanker at the airport could no longer be used amid safety concerns.
A replacement tanker is due to be in service by 22 December.
Aurigny said if poor weather combined with the temporary shortage freight, bags or passengers may be offloaded.
Malcolm Coupar, commercial director of the Guernsey States-owned airline, said: "We will have to fill our aircraft in Guernsey with enough fuel to fly into Alderney and onwards to the next destination.
"We do not believe that this will be an issue for the majority of the time but poor weather may result in us having to carry enough fuel for 'holding' until the weather clears and enough for the next sector.
"We will always do our best to avoid leaving anything behind, and if the situation does arise we will do our utmost to repatriate them as soon as possible. Priority will always be given to passengers."
James Lancaster, managing director of Alderney Electricity, previously said: "Following a full inspection of the airport fuel tanker, I was not satisfied that we could continue to operate safely over the winter period and had no choice but to withdraw the service."
He said the alternative tanker needed minor modifications before it could be brought into service and thanked local pilots for helping to conserve stocks.
There are six flights in each direction between Guernsey and Alderney on weekdays and three on Saturdays and Sundays.