Sark appoints international monitor for general election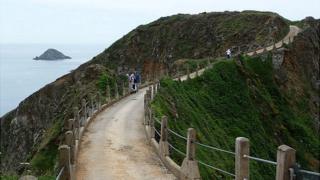 The government of Sark has appointed an independent observer to monitor its general election on 10 December.
In the forthcoming ballot, 16 candidates will stand for 16 seats in a parliament that has divided the island politically.
The observer, Howard Knight, has previously worked in Bosnia, Somaliland and Ukraine.
He said the fact all candidates will be elected raises questions "about the democratic credentials" of the ballot.
Sark's governance is the source of political divide in the island and has drawn the attention of the Ministry of Justice, which oversees UK relations with Crown Dependencies.
Mr Knight said: "I am making arrangements to meet various officials, conseillers and electors who may have views to express about the electoral arrangements and outcome."
Much of the dispute on Sark revolves around disagreements between the island's politicians and Sir David and Sir Frederick Barclay, owners of the Telegraph Media Group.
An online petition calling for the UK government to intervene in island affairs has attracted almost 12,000 signatures.
Sir David and Sir Frederick Barclay, owners of the Telegraph Media Group and the neighbouring island of Brecqhou, have raised issues about Sark's constitution questioning whether it meets with European Union human rights laws.
In November, it emerged Sark Estate Management had decided to close its four hotels on the island.
Correction 6 December 2014: This story has been amended to clarify the parties involved.