Sark election 2014: Candidates elected unopposed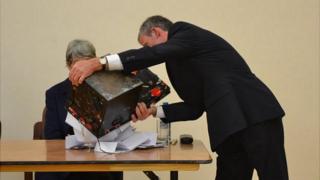 There will be no contested election in Sark as the number of candidates is the same as the number of empty seats.
Reg Guille MBE, president of Chief Pleas and returning officer, declared all the candidates duly elected to the island's government, Chief Pleas.
However, as two of the sixteen seats are for a shorter term, a ballot will be held on 10 December to decide how long everyone serves as a conseiller.
Fourteen candidates will be elected for four-year terms and two for two years.
Successful candidates
Diane Baker
Edric Baker
Paul David Mitchell Burgess
Peter Gabriel Paul Byrne
Elsie Grace Courtney
Colin Matthew Golds
Charles Noel Donald Maitland
Nicolas John Patrick Moloney
Christopher Robert Nightingale
Elizabeth Jane Norwich
Roger Peter Norwich
Helen Mildred Plummer
William George Raymond
Arthur James Rolfe
Stephen Treweek Taylor
Anthony Granville Ventress