Enough is Enough hail numbers at anti-taxation rises demo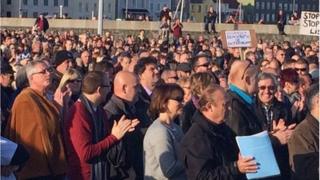 Up to 2,000 people gathered at a public meeting called in protest at plans to rise taxation levels in Guernsey.
The Enough is Enough group staged the demonstration in St Peter Port.
Organisers oppose plans which could see a goods and services tax (GST), parking charge hikes, a refuse tax and new car taxes.
Following the event Deputy Barry Brehaut said he stood by the transport strategy but alterations would be made.
He said: "What is absolutely clear and important is that the legislation on the day will have to look different."
K'han Holden, one of the organisers, said he hoped the demonstration would prompt more people to get involved in political issues.
He said: "It most definitely does not stop here. It would be nice to get a small group of volunteers together and they can join us in looking at future proposals."
Organiser Zef Eisenberg said: "It really showed what level of resentment these taxes are making people feel."