Swim to allay contamination fears is 'frivolous'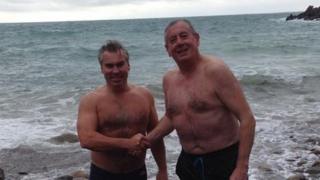 Guernsey politicians have been accused of "frivolous" behaviour in the face of a health risk.
Deputy David De Lisle has "major concerns" about a hazardous chemical in Petit Bot bay as a result of an air crash in 1999.
Health Minister Deputy Paul Luxon and Deputy Scott Ogier swam at the site to show their confidence in water quality.
Perfluorooctane sulfonic acid (PFOS) was in foam used by firefighters at the crash site above Petit Bot bay.
Deputy Ogier took up a public invitation made in the States from Deputy Luxon to swim at Petit Bot bay.
Deputy Ogier told the States: "Monitoring of the Petit Bot catchment has been carried out since 2008 and PFOS is present in trace levels but is being managed."
But Deputy De Lisle said: "Well Deputy Luxon was being extremely frivolous and as a health minister that is no way to treat PFOS contamination in this island.
"We have to be eradicating that PFOS contamination and doing something about it. He's been made health minister and he should be taking his responsibility very seriously."
He said the pollution had spread to the water from the crash site.
"The beach is also polluted and the problem is children play down the road in the streams and they also play, of course, on the beach."
The cargo plane from Luton was carrying newspapers when it came down in 1999.
Guernsey Water has said regular tests have been carried out and no contaminated water entered the supply.