Guernsey residential home faces closure after funding cuts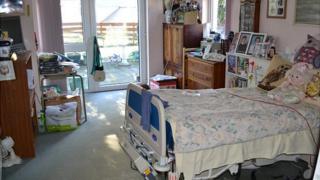 The future of a Guernsey care home could be in doubt because of a lack of funding.
The Guernsey Cheshire home needs £500,000-a-year to stay open.
The home cares for people with physical disabilities and does not receive public sector funding,
Representatives said incoming disability legislation meant a review of funding needed to be carried out to ensure care was available.
Alex Jenner, events and fundraising co-ordinator for the charity, said a "tightening of belts" on the island meant it had only raised £170,000 this year.
Increasing demand
She said: "The home is so important because if the home isn't here then it will be the States responsibility to pick up where the home can't provide."
Ms Jenner said 2014 had been "a tough year" in terms of fundraising.
She said changes in funding were necessary to continue to provide services in line with the disability strategy - approved in November 2013 and aimed at improving the rights of disabled people in Guernsey.
She said: "I can see a raft of legislation coming in as a consequence of the disability strategy which will, quite rightly, impose upon the public sector the obligation to provide for disabled people.
"But we have not got the money in the public sector to comply with our obligations. The States needs to engage with people like us in order to see how combining with the third sector, these facilities can be provided for the people who need them."
Ms Jenner said demand for care for people with physical disabilities in Guernsey was increasing.