New Condor Ferries vessel due in March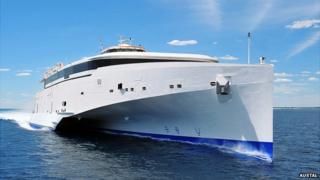 A larger ferry serving the Channel Islands is due to come into service in March, Condor Ferries has announced.
The £50m Austal-class vessel was bought earlier this year after the company secured a 10-year licence to operate between the islands and the UK.
However, the size of the vessel means the company will stop operating to Weymouth and will only sail to Poole.
The 102m (335ft) vessel called Condor 102 will be set up to carry 880 passengers and 245 vehicles.
This compares with 741 passengers and 175 vehicles carried by each of the company's three fast ferries.
A spokesman for the company, which has experienced a number of technical problems with its current fast ferries in recent years, said it would provide "more comfortable and more reliable travel".
With the new vessel Condor Ferries will also be stopping its extra charge for SUVs as well as extending the maximum car length for its standard charge to 5.5m (18ft).
The company has also announced the return of day trips between Guernsey and St Malo, France, "at weekends and on popular days during the summer".
The company is the only one that operates a passenger service between Guernsey, Jersey and the UK.