Guernsey parish magazine chief is world's oldest editor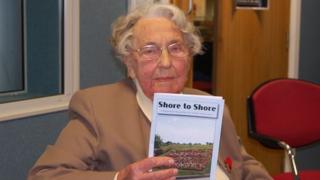 A woman from Guernsey has been officially named as the world's oldest editor-in-chief.
The achievement of 95-year-old Lily Mauger has been recognised by Guinness World Records.
Mrs Mauger served for 16 years as editor of the Shore to Shore parish magazine.
The world record acknowledgement came at the same time as the final publication of the magazine.
Mrs Mauger took over the magazine, which served the parishes of St Saviour and the Forest, 16 years ago.
As editor of the bi-monthly parish news she has presided over nearly 100 publications.
The last issue featured stories such as 'Diary of a Very Elderly Senior Citizen' and 'A Recipe for Marzipan and Apricot Sponge'.
'An inspiration'
Mrs Mauger said: "I think it's really a bit of fun. I can't see I've done anything extraordinary at all.
"I was very lucky because I had wonderful contributors and that's the thing that counts."
Parish constable Fergus Dunlop described Mrs Mauger as "an inspiration".
He got in touch with Guinness World Records following the editor's 95th birthday.
Mr Dunlop said he had always looked forward to the arrival of Shore to Shore.
"You wait with bated breath for it to come through the letterbox and of course now it won't anymore," he said.
Shore to Shore will be replaced by a new magazine to serve the four parishes of Torteval and St Peter's as well as St Saviour's and Forest.