Guernsey Prison told to 'stop holding children' by inspectors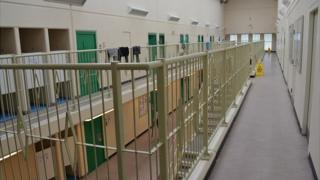 Guernsey should stop holding children and adults in the same prison, the chief inspector of prisons has urged.
The Home Minister Peter Gillson said it was a "difficult matter", but a solution was being investigated.
It follows a Her Majesty's Inspectorate of Prisons (HMIP) inspection of the island's prison and police, border agency and court custody facilities.
Nick Hardwick said it was a "powerful reminder of how good a small prison can be" and coordination was "exemplary".
He said: "The most serious and glaring anomaly... was that five children were held alongside adults in the prison and arrangements for dealing with children in police custody were inadequate.
"This breached fundamental international standards and was to the serious detriment of the children we met on this inspection.
"I urge the authorities to take urgent action to ensure this situation is not repeated."
---
Guernsey Prison Inspection
Two 15-year-old boys were treated kindly and kept away from other prisoners, but accommodation was cramped and they received inadequate support to prepare for their GCSEs
Women's needs were not always adequately considered and they were disadvantaged compared with men
Managers sought to address challenges in finding sustainable accommodation on release, but this reflected wider issues with housing stock and affordability
Police Custody Suite Inspection
A child had been held overnight in the cells and procedures to manage the needs of women and children were inadequate
There were many ligature points - which could be used to support a noose - in the cells and rousing checks on detainees who were intoxicated were not carried out in accordance with procedure
The paper-based custody record did not record all relevant matters and risks and checks were not always made for warning markers before a detainee was placed in a cell
---
Under the current system children as young as 12 can be held in the prison.
Deputy Gillson said: "The detention of children is always going to be a difficult matter to resolve in a small jurisdiction with currently no dedicated detention facility for under 18s.
"The Home Department board has recently discussed how this area could be handled more appropriately, and the prison governor is currently developing a business case."
He said the "long-term viability" of the police custody suite was being considered.
While the report praised work amongst the Home Department's various agencies - including the police, border agency and prison - it said more co-ordination was needed between other States departments.
The inspectors found two 15-year-old boys who were in prison when they visited did not have access to education services.
An Education Department spokesman said "more robust arrangements" had been put in place and pointed out it was "a very rare event for children of compulsory school age to be admitted to the prison".
He said the department accepted there were "some inadequacies and delay", but once the issues were raised "immediate steps were taken to resolve any problems".