Guernsey Airport terminal project had 'severe failings'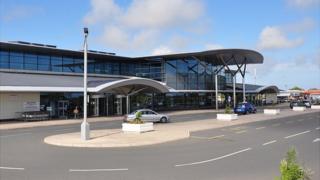 "Severe failings" that led to a £7m overspend on the building of Guernsey Airport terminal are unlikely to be repeated, the Policy Council has said.
The comments came in response to a review of the project.
The cost of the work is being recovered through fees paid by passengers, which are expected to continue for 20 years.
The Policy Council said "more in-depth analysis and robust processes" put in place since the project "substantially mitigate the risk" of a repetition.
The terminal building opened in November 2004, four months later than planned and £6.8m over its original £16.4m budget.
During the terminal project one of the sub-contractors went into liquidation and was unable to pay its suppliers and its own contractors, leaving some island firms without full payment for the work carried out.
Ahead of the project only the financial situation of main contractor had been investigated and safeguarding relating to its finances put in place.
Increased financial checks and processes around the funding of capital projects were introduced in 2009.
The review undertaken by the Public Accounts Committee started in the autumn of 2013, after an "extended and protracted legal dispute" between the States and two of the companies ended with both sides agreeing to pay their own costs.
The committee found despite increased checks "this scenario could occur again" and warned sub-contractors to ensure "contractual protections" were in place.
It also highlighted the use of the "relatively new concept of a project bank" through which the States and main contractor pay sub-contractors jointly, which was "trialled effectively on the Belle Greve Phase V wastewater project".