Guernsey midwifery services review finds women 'afraid to complain'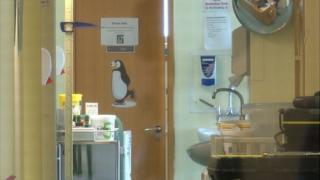 Patients are afraid to complain about maternity services at Guernsey's Princess Elizabeth Hospital, a report has found.
The Nursing and Midwifery Council review was launched after concerns were raised about the standards of supervision of midwifery in the island.
The reviewers heard stories of "poor maternity care" and concerns about "a small number of midwives".
One woman said it had made her consider staying at home for her next labour.
'Dripping in blood'
Those interviewed said they had "low expectations" of the service, but were positive about the community midwives.
The report said one mother spoke of walking through the ward "dripping in blood" after "being refused a shower after giving birth" and then "being told off for dripping blood".
Another said aftercare services were not good, with one midwife not having enough English necessary to complete the required forms.
The report raises concerns about care, facilities, delays in moving patients into theatre for emergency caesarean sections, staffing, record keeping and the organisational culture or "Guernsey way".
Maternity services
Loveridge ward at the Princess Elizabeth Hospital includes a 12 bed antenatal or postnatal ward, four delivery rooms, a two bed transitional care unit and a three bed neonatal unit
In 2013-14 there were 646 births and 39 registered midwives in the Bailiwick of Guernsey
There were four supervisors overseeing 36 midwives at the Princess Elizabeth Hospital and three midwives at the Mignot Memorial Hospital, in Alderney. The supervisor to midwife ratio was 1:9
Midwives are currently being overseen by Jersey supervisors, meaning Jersey's ratio has changed from 1:8 to 1:15
Across the UK in 2013-14 there were 55,163 births and 2,887 registered midwives with 200 appointed supervisors of midwives giving an overall ratio of 1:15
The reviewers said they were unable to speak to any of four supervisors of midwives as all were on enforced leave of absence with three being reviewed for their competence and capability.
The fourth was placed on leave of absence last month and is undertaking an action plan run by the local safeguarding authority - NHS England, South West.
'Frequently at risk'
The reviewers reported an "out of date birthing environment which was very 'clinical' and in need of modernisation to reflect contemporary maternity services".
In relation to moving women to theatre for an emergency caesarean section, midwives said "mothers and babies were frequently at risk from the subsequent delayed procedures" as the procedure could only take place once consultants had been called in from home.
They also said they "attended home births in their own time as a gesture of good will" due to a lack of staff.
Issues with the storage of records were also highlighted, with private information in birth registers and midwives' diaries "easily accessible on a shelf".
The reviewers said comments such as "this is Guernsey... not the mainland" were made by midwives, service users and senior personnel when discussing some areas of concern.
Health and Social Services Minister Paul Luxon, who was only elected to the post on Wednesday, said: "I can assure islanders that delivering a high quality midwifery and maternity service for the women and babies we serve is our immediate and top priority.
"The steps HSSD has already taken, and the steps we will take next, provide clear evidence of that commitment.
"We will publish our finalised and detailed action plan... by mid-November."