Guernsey's Havelet slipway shut for essential repairs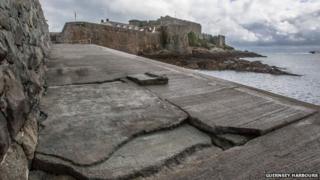 Havelet slipway in Guernsey will be shut whilst repairs are carried out following recent storm damage.
Harbour Master, Captain Chad Murray, said the work was essential after previous temporary repairs were affected.
He said repairs were needed to the coping stones along the edge of the slipway.
The work is being done to protect the slipway from potential damage throughout the winter months.
Situated to the south of St Peter Port, the slipway is used frequently by people as a safe place to access the sea.
The area is also particularly important during the summer months for the clubs, societies and individuals that use it.
Capt Murray said: "It is vital that the repair work is durable and robust to ensure that there is no further damage throughout the winter and the island can continue to make use of the facilities."