Beau Sejour cinema reopens after 15 years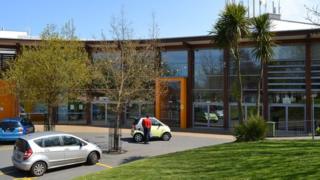 A cinema which closed more than 15 years ago because of a lack of demand and investment is to reopen.
The Beau Sejour cinema in Guernsey will reopen on 26 October by the States but the department responsible says it is unable to say how much it is costing.
Deputy Minister for the Culture and Leisure Department, David Inglis, said the decision was after positive feedback from residents.
The independent four screen Mallard is the island's only other cinema.
The newly named Beau Cinema will start showing films to the public in a refurbished auditorium with modern sound and projection equipment.
'Niche experience'
Deputy Inglis said he expected the new venture to pay for itself over the next 12 months. When pressed on the cost of the venture he said it had been "costed out and budgeted".
He said: "It has been a big financial investment but from our point of view payback will be in attendance of people coming to support this.
"We are aiming for a niche experience, it is for people to enjoy a full cinema presentation in terms of lighting, sound and projection. There is a real big feel to what you are entering into."
The existing 400 seat auditorium at the leisure centre has been refurbished to include a large screen, surround sound and a 3D projector.
"We will be looking to get payback from the investment we have made over the next 12 months. Signs are really good," he added.
Steven Spielberg's Jurassic Park will be the first film screened to the public and films including Frozen and the Lego Movie will also be shown in 3D at the venue.
Nic De Lisle, from Guernsey film society Cine Guernsey, said: "From Cine Guernsey we are always happy to see anything that expands film fans from Guernsey."