Guernsey ministers clash over derelict vinery sites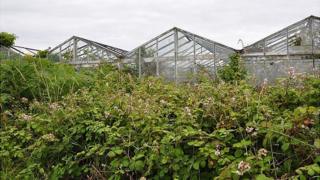 A call to turn Guernsey's derelict vinery sites into low cost premises for new businesses is being described as "flawed" by the environment minister.
Commerce and Employment Minister Kevin Stewart called for the move during Thursday's Institute of Director debate as a way to encourage new businesses.
However, Deputy Yvonne Burford said the suggestion was "flawed" because of the "many existing vacant premises".
She said the issue for businesses was not availability but affordability.
Deputy Stewart described the Environment Department, which is responsible for the planning process, as the "prevention of business department" and said of the vineries "I'd pull the bloody things down tomorrow as it's a fallow asset".
He has since tweeted he and the Chief Minister Jonathan Le Tocq are looking to shortcut the current process to speed up new developments.
Deputy Burford said she was "extremely disappointed" by the comments and "unprofessionalism".
She said the new island development plan, which is due to be published by the States in February, included plans to change some vinery sites into light industrial use.
"If land is needed for these purposes we can provide it."
Ms Burford said the "biggest issue" of affordability "cannot be resolved through the land use planning system".
She said it was one that came under the "mandate of the Commerce and Employment Department" and it was its responsibility "to investigate and bring proposals forward to deal with".