Guernsey L'Ancresse golf course may be public in 2016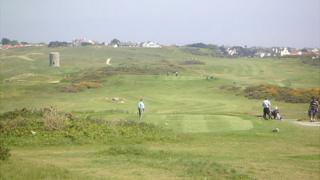 The private golf course at L'Ancresse in Guernsey could be opened to the public in 2016.
Currently the course is rented from the Vale Commons Council by two private clubs, at the cost of £100 a year under a 70-year lease that ends in 2016.
The council has offered a new lease for 25 years with an annual rent of £80,000 to the clubs.
If this lease is not agreed the course may be opened to the public or used for something else, the council said.
It follows a review into the future use of the commons, which also looked at what funding is needed to pay for "major maintenance".
---
What are the Vale Commons
Covers about 740 vergees (a vergee equals 17,640 sq ft, 1,639 sq m or 0.405 acres) including open spaces and large areas of gorse and other important wildlife habitats
About 370 vergees are used for playing golf, which has been played on the common since at least 1890
It includes 10,000 sq m of car parks, 7,000 sq m of footpaths and tracks
It has important historical sites including Neolithic sites and fortifications from the Napoleonic era and the German occupation during WW2
It is managed by the Vale Commons Council, which is elected by inhabitants of the Clos du Valle - an area in the north of the island that was previously separate from the main island
---
Currently, the council's annual income is about £35,000, which it said "has fallen increasingly far short of what is required to manage the commons properly".
It hopes to raise its income to £160,000 by increasing its rental charges and will ask the States to increase its grant from £30,000 to £45,000.
President of the Royal Guernsey Golf Club, Patrick McKeary, said golfers were prepared to pay the going rate.
The Deputy Minister of the Culture and Leisure Department has questioned the accuracy of the report, but would not comment on what the inaccuracies were.