Runway 'too short' to improve Guernsey tourism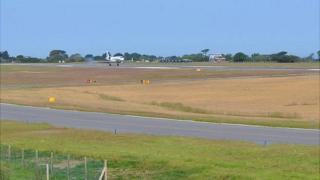 Guernsey's runway is too short and a "hurdle to tourism", the deputy treasury minister said.
Deputy Jan Kuttelwascher said he is worried about Guernsey's future if it does not allow large scale infrastructure development.
He said the island needed to accommodate low-cost airlines if it was to boost visitor numbers.
Any project would need to be paid for by public and private funds, said Guernsey's Chamber of Commerce.
'Big impact'
Deputy Kuttelwascher's comments followed a speech to the chamber from infrastructure architect David Kingdom.
He said: "Either you take the issue of connectivity seriously - and it has a big impact on tourism - or you don't.
"The way you facilitate growth is by accommodating the aircraft that the low-cost carriers operate. The only one that can operate is Flybe with its turboprops or Embraer.
"It's a hurdle to tourism."
Chamber president Tony Rowbotham said business had to play a role in infrastructure improvements.
"It should not be left to government to provide the capital for all the infrastructure this island needs for the next 50 years," he said.
"There is a vast amount of private capital on the island and globally."
Mr Kingdom, who is also a retired member of the British Aviation Group, which represents British aviation companies, said Guernsey needed a visionary plan to improve its port and airport to boost tourism.