Two injured during Guernsey powerboat championships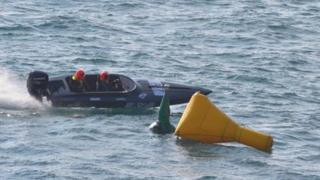 Two people have been taken to hospital after their boat overturned during the Powerboat World Championships in Guernsey.
Pilot Veronica Olderin and navigator Kristina Coleman, both from Sweden, were racing in their boat the B87.
They have been taken to the Princess Elizabeth Hospital in St Andrews. The extent of their injuries is not known.
The three-race event is being held in Bailiwick waters under "challenging conditions", a commentator said.
Racing in the UIM 2014 Class 3A and 3B World Powerboat Championships will be held until 14 September.
A number of Guernsey boats will be competing, including the island's World 3B champions John Richardson and Tom Sauvarin.
The duo raced together in their boat B-48 in 2011, but this time they are competing against each other in separate boats.