Guernsey Greenacres dementia home plan submitted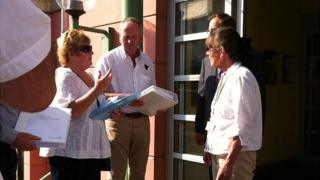 Campaigners have submitted new plans as part of moves to turn a Guernsey hotel into a dementia care home.
The Green Acres Hotel closed in 2012 and developers Comprop said falling tourist numbers meant the site was not commercially viable as a hotel.
The plans were presented to the environment minister with a 6,100-name petition supporting the move.
An initial application to turn it into a dementia care unit was rejected by the planning department in August.
The revised plans outline a unit with a minimum of 40 en-suite bedrooms and 28 parking spaces.
The developer's planning application said there was a "demonstrable" need for the unit, compared to a "hypothetical" need for tourist accommodation.