Alderney Airport grass runway drainage work completed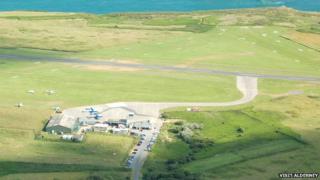 Work to improve drainage on Alderney Airport's two grass runways should "significantly reduce" disruption, airport director Colin Le Ray has said.
Both runways were unusable for the past two winters due to being waterlogged, which also affected the tarmac runway.
Mr Le Ray said the work to aerate the soil would make the grass runways usable for most of this winter.
He said exceptionally heavy and unrelenting rain, fog or crosswinds could still cause flight disruption.
The improvement work involved making deep cuts in the ground to reduce the compaction of the soil and allow it to recover naturally.
As part of the treatment process, samples were tested in the UK to decide what nutrients needed to be added to be soil.