Guernsey Air Display Lancasters flight in doubt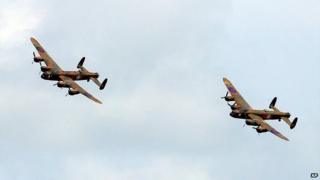 The appearance of the only two airworthy Lancasters at the Guernsey Air Display is in doubt due to increased costs.
The bombers, owned by the RAF Battle of Britain Memorial Flight and the Canadian Warplane Heritage Museum, are due to appear on 11 September.
Engine problems have led the Canadian plane to miss a number of displays.
Barry Neal, Guernsey Air Display director, said it appeared the owners were trying to make up for lost income.
He said the organisers had been asked to pay an additional £3,000 on top of the £5,000 already agreed.
The plane's owner has not commented on the increased payment.
---
The Lancaster bomber
---
However, the museum did release a statement in which it said issues with one of the Lancaster's four engines had caused it to cancel some appearances, but a loan engine from the BBMF had allowed the plane to return to the skies.
It said: "We aren't able to use this to get back to Canada and urgently require funds to recondition this fourth engine."
'Nothing untoward'
Mr Neal said: "It's an unusual thing to happen on the air display circuit, but the bottom line is we simply can't afford it, we don't have any spare money."
However, Mike Higgins, organiser of the Jersey International Air Display which is held on the same day, said: "It's nothing untoward.
"They hadn't priced Guernsey correctly. When they worked out the costs they didn't make it high enough in Guernsey so they were paying less than we were so what they are doing is equalling them up so we're paying the same each."
Mr Neal said he hopes to renegotiate the fee back to the original, but has asked if any benefactors would be willing to come forward in the event these negotiations were unsuccessful.