Guernsey WW1 memorial fundraising target reached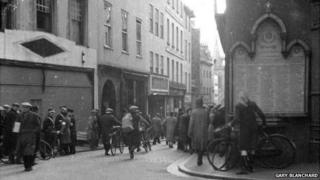 A new memorial is to be created in Guernsey to honour soldiers who lost their lives in World War One.
A wooden plaque was first unveiled in 1917 in memory of those killed from the St Peter Port parish in Guernsey. By the end of the war, it paid tribute to 193 parishioners.
The plaque was removed after parish authorities decided not to carry out restoration work needed in 1955.
Douzenier Keith Pike has raised the £4,000 needed to create a new plaque.
The parish authorities decided against restoration work on the walnut and zinc memorial in the 1950s because it would have cost about £50 - the equivalent of about £1,200 today.
All those named were also remembered on the Bailiwick War Memorial, at the top of Smith Street, which lists those killed from across Guernsey, Alderney, Sark and Herm in both world wars.
The new version was being produced using acrylic so it would be more hardwearing, Mr Pike said.
He said: "I am over the moon with the public support for the memorial.
"We now want to produce a commemorative booklet with photos of some of the soldiers mentioned and other information."
He said although the fundraising had been a lot of hard work it had been a "heart-warming experience".
The new memorial is due to be unveiled on 23 October.