Alderney road closed due to unexploded WW2 bomb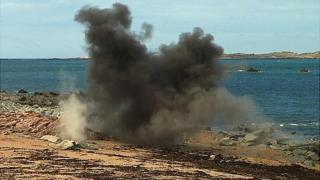 A road in Alderney was closed after the discovery of an unexploded World War Two shell.
A member of the public found the 10.5cm shell, left by German occupying forces, in Tourgis Road and alerted police.
Members of Guernsey Police's bomb disposal team travelled to the island by boat.
They moved the device to the coast, allowing the road to reopen, and used a controlled charge to detonate the ordnance shortly after 13:00 BST.
PC Simon Hamon said it was not clear how the shell ended up in the road, but that it had probably been brought to the surface of a neighbouring field when it was recently ploughed.
He said it was "most likely" the shell had been fired by the garrison at Fort Grosnez during training and its impact fuse had failed to set off the charge when it landed in the soft ground.
PC Hamon said the team, which deals with the Bailiwick of Guernsey, had dealt with more than 50 items of World War Two ordnance so far this year.
He said this included two in Alderney - both of the same type with the previous one detonated in a similar way.
Insp Karl Zerlinger said anyone finding what they believed may be an explosive should leave it alone and contact the police.