Guernsey water flumes to be used to grow food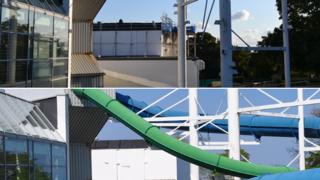 The defunct flume slides at a Guernsey leisure centre are to be used for community projects.
The flumes at Beau Sejour have been a feature of the leisure centre for decades but were taken down as they would cost too much to repair.
Karen Marsh, from Edible Guernsey, the group looking after the flumes, said they would be used to grow vegetables.
States of Guernsey Culture and Leisure say they would not be dumped.
Colin Thorburn, from the department, said he was delighted the majority of the tubes would be put to a good use.
Ms Marsh said: "They are such an iconic piece of Guernsey history so we had to use it for something. I'm part of a group creating a community farm.
"These flumes will be planters, they will have a future life. Both the green and blue will be cut into slices, cut up, made into beds and used again."
A campaign to keep them open and pay for repairs started in 2010 but failed to generate the £90,000 needed.