Channel Islands launch first heritage event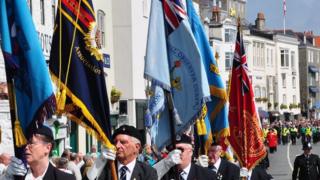 The first Channel Islands heritage festival has been announced by VisitGuernsey and Jersey Tourism.
The event will last five weeks and will mark the 70th anniversary of Channel Island liberation from Nazi occupation.
This is the first time the two islands have organised a joint tourism festival.
Organisers hope the £150,000 event will encourage tourists from the UK and Europe as well as people travelling between the Channel Islands.
The event will see coastal castles brought to life, doors opened on wartime bunkers and historic towers and the islands will put the flags out for Liberation Day.
There will be special events including Liberation Celebrations at the Jersey War Tunnels and a re-enactment of what life was like in wartime Guernsey at St Peter Port's Castle Cornet.
Director of Jersey Tourism, David de Carteret said: "The interest in the 70 years anniversary of the Liberation is enormous among potential UK and European visitors and these events provide an opportunity for us to work together on a regional tourism project to support all of the Channel Islands and hopefully get summer 2015 off to a great start".
The festival will take place between 3 April and 11 May 2015.