Guernsey students post 'best ever' GCSE results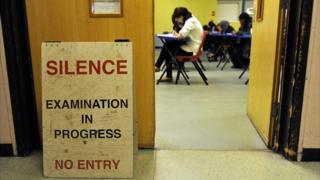 Students have posted the "best ever" set of GCSE results, Guernsey's Education Department has announced.
Across the islands 67% of pupils were awarded five or more GCSEs or Level 2 equivalent qualifications including English and Maths at A* to C.
This compares with last year's figure of 59.3% and the 2012 figure of 65.6%.
"We do not appear to have experienced the volatility of results predicted in England," said Education Minister Robert Sillars.
Reports from across England, Wales and Northern Ireland show a rise in A* to C grades, but a fall in English grades.
Deputy Sillars said: "It is difficult to draw any direct comparisons with England's results as they do not issue the same statistics on results day.
"I am confident in saying that our students have outperformed their national counterparts, although we won't know the 5 A* to C including English and Maths [per pupil] figure for England for some time."
All States-run schools, including Alderney's St Anne's, improved on their results from last year, but there were slight drops at the grant-supported Ladies College and Elizabeth College.
George Hartley, principal of Elizabeth College, said: "Across the whole ability spectrum boys have done really well relative to their ability."
This includes two pupils achieving 13 A* grades and another 12 A* grades.
| | | |
| --- | --- | --- |
| School | Grades A*-C inc. English and Maths 2013 | Grades A*-C inc. English and Maths 2014 |
| Overall Bailiwick figures | 59.5% | 67% |
| Grammar School | 95.9% | 97.1% |
| Elizabeth College | 98.9% | 90% |
| Ladies College | 100% | 98.5% |
| Blanchelande College | 87% | 94% |
| La Mare de Carteret High | 23.4% | 40.6% |
| Les Beaucamps High | 40.8% | 51.6% |
| St Anne's, Alderney | 35.7% | 58.3% |
| St Sampson's High | 33.1% | 52.2% |