Plane passengers evacuated due to reports of smoke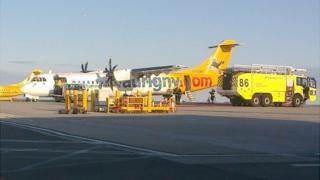 Passengers have been evacuated from a plane at Guernsey Airport after reports of smoke in the cockpit and cabin.
It happened shortly after 07:00 BST on board an Aurigny AT72 aircraft scheduled to depart for Manchester.
Emergency services attended the airport and "quickly assessed there was no fire", an airport spokesman said.
All services were stood down at 07:20 and the aircraft is currently being checked by engineers.
The passengers have been rescheduled to depart on a different aircraft, which was due to take off at about 08:30.
There are no reports of any injuries.