Guernsey crystal methylamphetamine lab couple jailed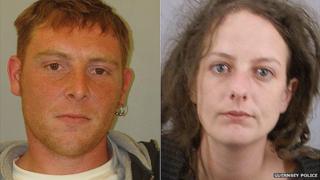 A married couple have been jailed after a crystal methylamphetamine production lab was found in their Guernsey flat.
Wesley Guilbert was sentenced to nine years for five drugs charges including being concerned in the production of class A methylamphetamine at their flat in Union Street, St Peter Port.
His wife Jennifer was jailed for four years for three drug offences - none relating to the production.
The case, at the Royal Court, was the first of its kind on the island.
Guernsey-born Wesley, 35, has 23 previous convictions, most recently serving a prison sentence for armed robbery.
He was sentenced to serve nine years for the production charge, to three years for one count of possessing Class B drug 4MEC and one month each for charges of possessing Class A drug 6MAM, possessing cannabis resin and obstructing police.
Jennifer, 33, originally from Blackpool, has a previous conviction for attempting to import heroin.
She was sentenced to four years for possessing Class B drug 4MEC, two years for possessing possessing cannabis resin with intent to supply and one month for the possession of cannabis resin.
The sentences for both will run concurrently.
---
What the police found
During the raid, Guernsey police discovered a range of items they said were commonly used in the production of crystal meth.
Cold pads the defendant told police were for his knees and legs
Respirator masks, which Guilbert claimed were for clearing his loft
Control crystals, which he claimed were for dehumidifying the flat
Used components from about 50 fire extinguishers
Extinguisher's pressure gauge rising, indicating chemical reaction
---
Crown Advocate Fiona Russel, prosecuting, said the raid came after Wesley was arrested during a struggle in the town's arcade, in January.
States Analyst Dr Roland Archer told the court he believed items found in the flat could be used for production of methylamphetamine.
But, when Wesley was questioned by police he said the items were "completely legal".
"I ain't got the knowledge to make crystal meth and if I was making it, I'd be living in a massive mansion in Europe and not like a pauper like I am now," he told officers.
During sentencing Judge Russell Finch said neither had helped themselves in the police interview with Wesley putting forward a "ludicrous explanation and implausible arguments".
He said the defendants' guilty pleas had worked in their favour, but the drug was "unpleasant and dangerous" and the sentence must "deter and punish".
He also told them there had been "little evidence of remorse from either" and drugs ruin lives and the authorities "have to protect those who fall into dependency".