Rise in Guernsey bus passenger numbers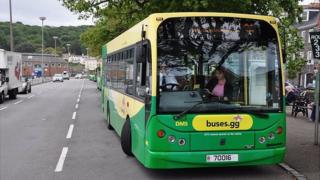 A further increase in bus passenger figures is down to improved reliability, Guernsey's public bus operator has said.
After declining since 2009 the number of journeys rose in the first six months of this year, compared to to the same period last year.
Frank Villeneuve-Smith, from CT Plus, said he was delighted by the rise in figures for July.
He said: "Reliability is the key factor in getting people to use buses."
---
Bus passenger figures
June 2011 - 173,537
June 2012 - 163,663
June 2013 - 151,394
June 2014 - 172,226
---
Mr Villeneuve-Smith said: "Passengers need to know that their bus will turn up when it says it will.
"We've worked tirelessly on service reliability and over the last quarter there have been no cancellations and we've run 99.99% of all scheduled mileage - which in bus terms is a great result which any operator in the world would be proud of.
"Bus ridership in Guernsey is seasonal and bad weather last summer didn't help.
"This year the weather has been excellent, people have wanted to get out and enjoy it so we also recognise that has been a factor."