Guernsey's Iron Age dig 'secret' to stop metal detector users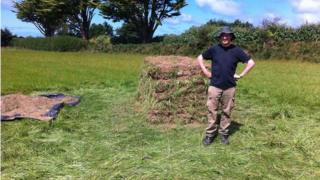 Archaeologists digging at an Iron Age settlement are keeping the location a secret in a bid to stop people with metal detectors spoiling the site.
The settlement in Guernsey dates back 2,000 years and it is thought mostly pottery will be found.
Archaeologist Dr Phil de Jersey said keeping it a secret gave them a "head start".
He added there had been a "growing problem" with people using metal detectors on land without permission.
Treasure chance 'slight'
The dig is expected to last up to three weeks.
Dr de Jersey said: "I wanted to be a bit cautious at the start.
"There are some very responsible metal detector users on Guernsey, but there are also a few people who have been detecting where they shouldn't be.
"The vulnerable moment for this site is right at the start and it gives ourselves a head start."
He said it allowed them to survey the site for metals and they did not want to "encourage people to come and dig holes without permission".
Dr de Jersey said keeping it a secret could tempt users to try and find it "because there might be treasure, but I can assure you the chances here are very, very slight".
A trench was last dug at the site back in the 1970s.
The current dig will be bigger and will look at areas that have not been searched.
"It's a late Iron Age, early Roman rural settlement, so we'll get late Iron Age pottery and Roman material," added Dr de Jersey.