Guernsey Electricity survey tests undersea cable route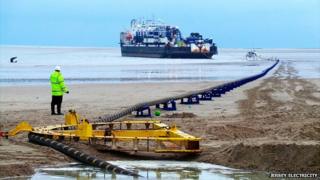 The seabed between Guernsey and Jersey is being surveyed ahead of the laying of a second undersea electricity cable.
The survey is expected to take about two months and will collect environmental data and search for unexploded ordnance and wreckage.
The planned route is similar to the current cable, from Greve de Lecq in Jersey to Havelet Bay in Guernsey, then on to Barker's Quarry.
Guernsey Electricity is expected to borrow £45m for the work.
The undersea ground conditions will determine whether it will be possible to bury the cable.
A spokesman for the Channel Islands Electricity Grid said the aim of the second cable was to provide a more reliable, affordable, secure and sustainable electricity supply for both islands.
Guernsey and Jersey import electricity from the French national grid when it is cheaper than producing on-island.