Damaged Commodore Clipper to return to service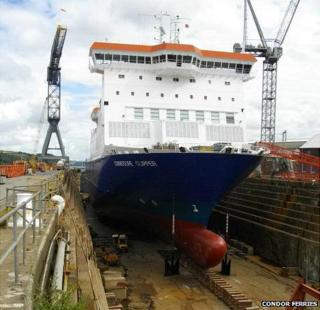 The Commodore Clipper, which was damaged when it hit the seabed on 14 July, is to return to service this weekend.
Condor Ferries said the dry dock repair works in Falmouth had been completed ahead of schedule.
The ferry carries both freight and passengers, but will initially be freight only while the Commodore Goodwill undergoes maintenance.
Both ships are expected to resume normal service from 26 August.
The Clipper normally operates between Portsmouth and the Channel Islands.
While it was out of the water, charter ships MV Arrow and MN Toucan replaced its freight carrying capacity, while passengers have been diverted to the company's fast ferries.