Alderney breeding success for ringed plovers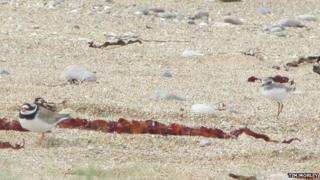 Four ringed plover chicks have been successfully raised after their breeding ground was protected by the Alderney Wildlife Trust.
The birds breed on the beach and have been vulnerable to predators in recent years, the trust said.
Previously, six ringed plover chicks reached adulthood in six years, leading to the trust urging the public to avoid nesting sites.
The trust said the level of community involvement "helped swell numbers".
Platte Saline in Alderney is home to the only known regular breeding population of ringed plovers in the Channel Islands.
For the first time on record the species has been seen to extend their range to Clonque Bay, which lies to the south west of Platte Saline, where another two pairs were discovered.
The trust said the late discovery in the season of these pairs and the higher difficulty in finding them on pebble beaches as compared to sand meant a full count was unlikely to have been achieved.
Tim Morley, from the trust, said: "It has been fantastic to see the ringed plovers breed well this year and expand their population.
"This success has been made all the more special by seeing the level of community involvement and care in protecting these charismatic little birds."
The breeding season is from late April to July and the birds nest at the high tide line on the beach.
The trust is currently reviewing the island's bird protection laws for the States. This sets out measures to protect bird populations, including beach closures.