Guernsey farmers may lose cattle compensation scheme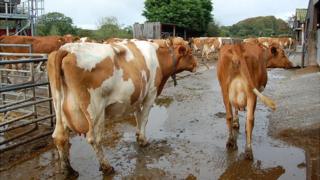 A scheme which compensates Guernsey farmers for culling cattle could end in October.
The £150 payments were introduced in 1996 during the BSE crisis when there was a ban on cattle aged more than 30 months entering the human food chain.
Previously farmers could sell older dairy animals, no longer required for milk production, for meat.
With no cases of BSE since 2002 and a new slaughterhouse, the States has been asked to end the subsidy.
A Commerce and Employment spokesman said ending it could save the department £120,000, half of which would come from ending the payment and half from reduced incinerator costs.
He said routine BSE testing continued to be carried out.
The falling number of BSE cases led to the UK allowing cattle older than 30 months to be slaughtered for some time, but Guernsey has been unable to follow suit as the old abattoir did not meet the latest European Union regulations.
The move has been discussed with farmers since 2010, but some are concerned the payment is being withdrawn before the new slaughterhouse is fully certified.
Farmer James Watts said: "It couldn't stay in place for ever. Now the new slaughterhouse is up and running it is good news.
"We'd like to see it remain in place for slightly longer because the new slaughterhouse hasn't quite got all the approval it will ultimately have."
The facility at Longue Hougue has a provisional licence to operate, but with the restriction that meat may not be exported.