Two more questioned over Guernsey jewellery raid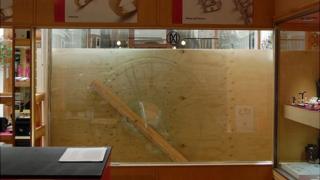 Two more people have been questioned in connection with a burglary at Martin and Martin jewellers in Guernsey.
The smash and grab raid took place at about 05:00 BST on Monday and saw about 50 items worth £230,000 stolen.
Police said a 33-year-old man and a 21-year-old woman were arrested and questioned on Wednesday and have since been released on police bail.
A 22-year-old man had already been bailed after being arrested on Tuesday.
Officers said a small quantity of jewellery had been recovered, but more than 40 items were still missing.
They urged islanders and jewellers to be on the lookout for items, particularly white and yellow gold diamond rings, being offered for sale.