Guernsey freight delayed by Condor Ferries propeller issue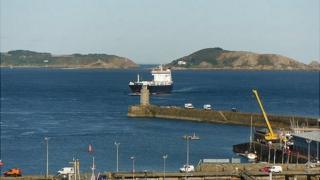 Freight supplies to Guernsey have been delayed after one of the two boats chartered to replace the damaged Commodore Clipper developed a problem.
The Clipper has been out of action since it struck the seabed off Guernsey on 14 July, but the company expects it to return to service later this month.
MV Arrow was travelling from Portsmouth to Guernsey on Tuesday when a propeller problem occurred.
The boat travelled to Jersey instead and berthed with the help of a tug.
The freight was delivered by the Commodore Goodwill at 11:40 BST in an additional sailing.
MV Arrow, which was chartered along with MN Toucan to replace the Clipper, has left for Portsmouth for repairs to the technical problem.
Capt Fran Collins, from Condor Ferries, said: "We would like to apologise to our freight customers in Guernsey for the delay due to last night's technical problem with Arrow.
"We are continuing to do everything we can to keep our islands connected and supplied."