Arrest after smash and grab raid on Guernsey jewellers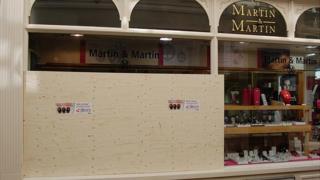 A 22-year-old man has been arrested in connection with a smash and grab raid on a Guernsey jewellery store.
A piece of granite was thrown through the window of Martin and Martin, in the Arcade, at about 05:00 BST on Monday, said police.
White and yellow gold diamond rings were taken, although the value of the items has not been revealed.
The man was detained by officers after he was spotted in St Peter Port.
Police have appealed for witnesses who saw a man riding a mountain bike through St Peter Port just before the burglary took place.