Hundreds of bags of recycling left by kerbsides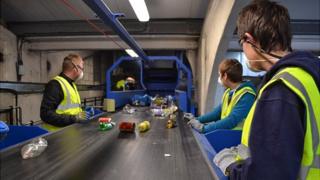 About 2,500 bags of recycling have been left by Guernsey kerbsides since March as the material in them cannot be recycled.
The States recycling service started in March but does not handle glass. Glass must be taken to bottle banks.
However, many residents have been putting glass in with their recycling causing it to be left by the roadside.
Tina Norman-Ross, recycling officer, said glass was a "real issue" in the recycling system.
Those attempting to collect the recycling have left stickers on any bags left by the roadside explaining why they were left. The stickers also have a helpline number on them for more information.
Mrs Norman-Ross said: "Glass is a real issue as soon as it gets into the system, so contractors are particularly careful to make sure it doesn't. Even the odd bottle or jar can cause problems."
Alan Crowe, chairman of Mayside Recycling, added that glass embedded in paper or plastic meant it could not be recycled and could damage the machinery used to separate the materials.
The Public Services Department plans to run a separate glass collection trial in some areas of St Peter Port later this year.