Guernsey tide warning issued for west coast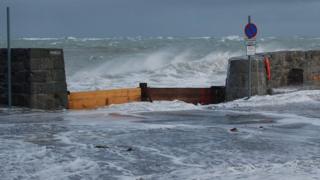 Guernsey's Met Office has issued a tidal warning for the west coast on Tuesday morning.
A high tide of 9.8 metres at 07:30 BST combined with force four to six westerly winds means there is a risk of water and debris coming over sea walls.
Senior Met Observer, Martin Crozier, said current weather conditions were set to continue.
"We're into a regime of isolated but really quite heavy showers and moderate to fresh westerly winds," he said.