Guernsey Bulwer Avenue storm damage repairs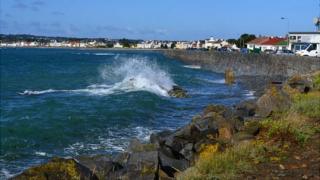 Damage caused by the winter storms to a sea wall on Guernsey's east coast will take four months to repair.
Work on a 100m (330ft) stretch of the wall along Bulwer Avenue is expected to cost more than £500,000.
The work involves pointing and masonry repairs and the installation of rock armour at the base of the wall, which has been undermined by the sea.
During the work, starting on Thursday, most or all of the Bulwer Avenue car park will be closed to the public.
After concerns were raised by businesses in the area about the loss of parking, Deputy Environment Minister Barry Brehaut said he would look into creating alternative plans for parking in the area.
Before the rock armour is installed Guernsey Water will be increasing the size of the water outfall pipe, which runs through the car park and is used to discharge from the transfer main between Barker's Quarry and Longue Hougue.
From this stage of the project, expected to start early in October, the car park will be completely closed and the recycling bank removed.