Guernsey coastal walkers cut off by tide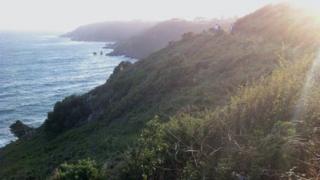 A rescue operation was launched after two men were cut off by the tide on Guernsey's south-east coast.
The men were trapped on rocks between Petit Port and Moulin Huet. They called the coastguard at 15:16 BST after finding themselves stuck.
The pair were hauled to safety by 19:45 by seven members of the St John Cliff Rescue Team. They were uninjured.
The ambulance service's inshore rescue boat could not be launched due to the weather, with gale force warnings.
The RNLI lifeboat, Spirit of Guernsey, assisted offshore.