Guernsey-Gatwick fares 'not profiteering' says minister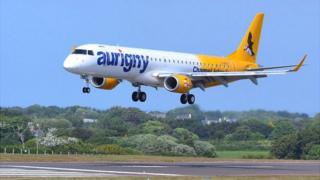 Guernsey's States-owned airline is not using its position as a sole operator to maximise profits, the island's treasury minister has said.
Aurigny became the only operator on the Guernsey-Gatwick route at the end of March when Flybe pulled out.
The department's figures show 76.5% of passengers paid less than £67 one-way.
Deputy Gavin St Pier said: "I can assure you that Aurigny is not looking to profiteer from its current position as sole operator on the Gatwick route."
He said: "The department's interest as shareholder is not in maximising returns."
Deputy St Pier said: "Whilst the department acknowledges the high fares paid by some passengers travelling to Gatwick, particularly those booking late, this has to be balanced by the substantial majority of passengers on the route that are paying significantly less."
---
Treasury figures for passenger volumes by fare paid for the year to date
Fare Band
Less than £67
£68-£129
£130-£160
£161-£199
£200+
Other*
% of Passengers
76.5%
17%
2.5%
0.6%
1.8%
1.6%
*Other passengers refers to those travelling under promotions, including frequent flyer.
---
Adding to comments made to the BBC earlier this week Deputy St Pier said: "The department has set the airline an objective of just reaching a breakeven point in order to minimise the taxpayer support it requires in future.
"All things being equal, Aurigny anticipates being in a position to breakeven in 2015-16."
He said: "Beyond the commitment agreed with Aurigny to offer 60% of its seats on the Gatwick route at less than £65, the department believes it would be completely inappropriate for it to interfere further in the airlines' pricing policies."
Deputy St Pier said the introduction of a service to London City would add about 45,000 extra seats to the London market and "will make it easier for Aurigny to manage peak demand on its services into London" and would be reflected in its prices.