Guernsey States-owned Aurigny 'to break even by 2016'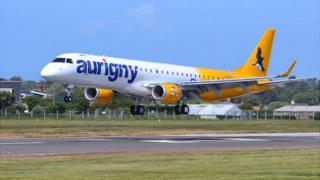 Guernsey's government-owned airline is "on track" to break even in 2016, the treasury minister has said.
Deputy Gavin St Pier said Aurigny was encountering increased passengers numbers with the new jet serving the Gatwick route.
His comments come as island business groups have started a review of the airline's Gatwick's fares amid concerns they are too high.
The airline defended the prices, which it said had to be commercially viable.
The Chamber of Commerce, Guernsey International Business Association and the Confederation of Guernsey Industry are carrying out the review.
Tony Rowbotham, chamber chairman, said the prices were impacting businesses and it was vital business stayed "competitive against our nearest rivals".
'Right balance'
Malcolm Coupar, Aurigny's commercial director, said: "We are required by our shareholder, the States of Guernsey, to increase our average fares and improve our financial performance while recovering above inflationary costs at London Gatwick.
"Our goal being to find the right balance to ensure our services are sustainable and that we carry as many people as we can."
Aurigny became the sole operator on the route at the end March when Flybe pulled out of the route and brought the jet, with States backing, to increase the number of people who could be carried on each flight.
By the end of 2012 the airline had losses of £12.5m and was expected to make losses of more than £3m in 2013, although its accounts have yet to be made public.
In April price controls were put in place for flights between Guernsey and Gatwick meaning 60% have to be sold for £65 or less, excluding UK Air Passenger Duty.