Bailiwick of Guernsey remembers the fallen of WW1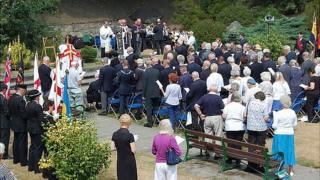 Services have been held across the Bailiwick of Guernsey to remember servicemen from the islands who died in World War One.
Dignitaries gathered at St Peter Port's Sunken Gardens for a service of remembrance during which wreaths were laid at the Bailiwick War Memorial.
Throughout the day a Town Church bell will sound 1,470 times to mark the deaths of each of the servicemen.
In Sark, wreaths were laid after a service at St Peter's Church.
The descendants of those who served were given copies of a book called Men Of Sark, about the men who went to war.
Guernsey's Bailiff Sir Richard Collas urged islanders to take time to honour those who served during World War One and those who made the ultimate sacrifice.
Eric Le Quesne, Guernsey president of the Royal British Legion, said: "The Royal Guernsey Light Infantry was decimated and there were very few island families that were not touched by that sort of grief and loss and I think that lives on in people's minds.
"It's right that we pause and remember the idea of that it would be the war to end all wars, but sadly that proved not to be the case."
Last week Alderney announced St Anne's Church bells will sound a 15-minute peel on the 100th anniversary of the death of the forty-one serviceman from the island.